Certified Stainless Steel Wire Supplier
Posted On April 24, 2020
Brookfield Wire is a leading metal wire supplier for the United States.
If your projects require the application of high-strength metal wire, you need wire drawing services from only the best stainless steel wire supplier. Brookfield Wire Company has been a leading custom manufacturer of metal wire for many years, so you can trust them to deliver wire that exceeds your quality standards.
As a leading stainless steel wire supplier, Brookfield offers products with the highest strength and durability on the market. So, Brookfield's quality stainless steel wire, nickel alloy wire, and other products can readily exceed even the strictest performance requirements with ease. In fact, Brookfield products offer superior corrosion resistance, environmental friendliness, and low maintenance requirements. As a result, companies in a wide range of industries from agriculture to aerospace depend on Brookfield for high-quality wire.
Brookfield combines their expert staff of engineers with state-of-the-art manufacturing equipment, so they can maintain exceptional levels of precision and uniformity to develop the wire you need. Furthermore, as a leading distributor of stainless steel wire, Brookfield offers many valuable capabilities including custom finishes, gauges, and tempers at wire diameters from .006″ to .250″. Additionally, Brookfield offers many spooling and packaging options to meet your delivery needs.
4 factors to consider when choosing a stainless steel wire supplier
If you have been looking for a stainless steel wire supplier, there are many factors to consider when choosing the best company for your next project. See the list below to learn about four of the most critical factors to consider when looking for stainless steel wire suppliers.
Compatibility with your Industry

Look for an online portfolio of past projects.
Ask for referrals from other companies in your field.

Communication

Does a team respond quickly to phone calls or emails?
Is a potential collaborator's company website responsive and up to date?

Alignment with your Business Goals

Does your company have certain plans for sustainability or technological advancement, for example?
Consider a team's values.  Do they line up with your team's values?

Online Reviews

These can help you get a general idea of a company's timeliness and customer service practices, for example.
Only consider online reviews in combination with other factors.
Superior lockwire & safety wire products
Brookfield Wire is a uniquely versatile wire supplier. They manufacture safety wire to ASTM, AMS, NASM, QQ, and MS specifications, so you always receive wire products with exceptional quality. Their materials come in stainless steel, cadmium copper, aluminum, and nickel alloys.
Standard Alloys
As a leading wire supplier, Brookfield offers a wide variety of alloys for our lockwire and safety wire products: 302 Stainless, 304 Stainless, 305 Stainless, 316 Stainless, 321 Stainless, Ni 200, Ni 205, Ni 211, Monel 400*, Inconel 600*, Blk Inc 600*. For inquiries on other alloys, contact Brookfield Wire today.
*A registered trademark of International Nickel Co.
Sizes
Typical sizes for Brookfield's safety wire range from .006″ to .064″. However, other sizes are available upon customer request. If you need something thinner or thicker than typical lockwire, Brookfield can custom manufacture the wire you need.
Finishes
Brookfield also offers a variety of finishes for its wire products. Their standard finishes include "BrookBright," matte, soap-drawn and bright. In addition, special-purpose coatings like NYLON are available upon request.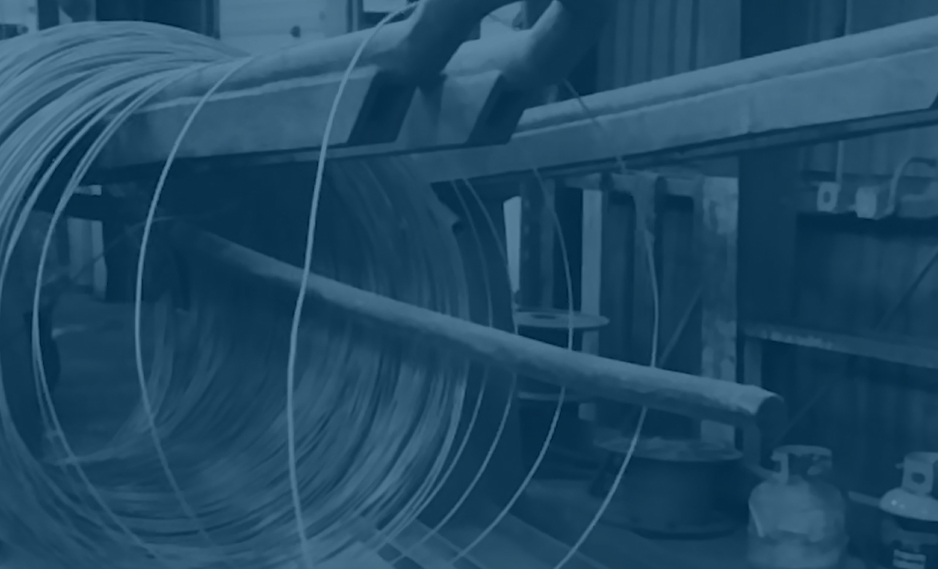 Tempered, high-strength wire products
Brookfield recognizes that strength and durability are crucial aspects of any quality wire products, so they employ a thorough tempering process to all metal wire. Tempering is an important step in wire forming that raises the metal to high temperatures and then cools them down. As a result, it improves wire strength while reducing internal stress and brittleness and enhancing corrosion resistance.
Furthermore, Brookfield's many years of experience in wire manufacturing allows them to offer a full range of tempers from full annealed to full spring wire. Brookfield also offers various intermediate tempers for custom project requirements.
Global purchasing
Brookfield also carries a full catalog of quality metal alloys. They use global purchasing to find their raw materials, so their customers receive the highest possible quality at the lowest prices.
Most notably, global purchasing allows Brookfield to offer a uniquely diverse range of materials. As a result, they can customize any wire products to offer ideal performance in your application. Furthermore, global purchasing methods place Brookfield among America's DFARS-compliant metal wire suppliers.
In addition, Brookfield Wire Company only utilizes raw materials found in domestic or NATO resources. So, their customers always receive the highest quality wire available.
Quick lead times and competitive pricing
When you choose Brookfield as your stainless steel wire supplier, you get to work with the most experienced wire manufacturers in the industry. In fact, Brookfield is one of the few ISO 9001:2015 Certified Distributors of metal wire.
At Brookfield, they specialize in the design and manufacturing of durable wire solutions with a full range of materials and maximum thicknesses. Most importantly, they offer high-quality wire drawing services with quicker lead times and better pricing than their competitors. They also offer DFARS-compliant materials. So, Brookfield always delivers the highest-quality wire with competitive pricing that fits in your budget.
Learn about the advantages of working with Brookfield Wire Company as your metal wire supplier.
About Brookfield Wire Company, Inc. | Stainless Steel Wire Supplier
Brookfield Wire Company, Inc combines countless years of experience in wire manufacturing to create the highest quality metal wire solutions. In fact, they have been creating custom metal wire products since 1947. So, Brookfield offers exceptional levels of accuracy for dimensional and processing control. As a result, they can meet even the toughest quality and performance standards while working within your time and budget restraints.
Efficient, high-precision wire production is a Brookfield specialty. With their experience in wire manufacturing, they can offer a full range of wire diameters, finishes, tempers, and chemistries. Furthermore, they can custom design wire solutions to meet your unique application requirements.
Brookfield Wire Company operates a 70,000 square-foot manufacturing facility that houses state-of-the-art manufacturing machinery. As a result, can take on complex and challenging projects while offering quick lead times.
If you are looking for a stainless steel metal wire supplier for your next project, Brookfield Wire Company welcomes any inquiries on acquiring metal alloys as well as any of their 50 standard alloys. Contact Brookfield today or visit their website at https://www.brookfieldwire.com/.