How To Find The #1 Hardscape Contractors | The Best Landscape Designs
Posted On April 26, 2022
What Is Hardscaping? | Hardscape Contractors Near Me
Landscaping is a common term that we are all familiar with, however, hardscaping is the exact opposite of landscaping. Landscaping is considered "soft scaping" which involves the planting of flowers, mulching, and gardening. Hardscaping refers to more architectural elements such as gazebos, stone walls, and walkways. Hardscaping is now bigger than ever for backyard lovers. Instead of vacationing, you can enjoy the calming oasis of your own backyard.
The Common Designs | Hardscapes Near Me
Hardscaping involves a variety of different aspects of your home. Some of the most common hardscape elements include:
Brick patios

Stone walkways

Tile patios

Gazebos

Fencing 

Outdoor Lighting 

Decks

Pergolas
These are some of the most common elements that you can choose from, however, they are not the only ones. Some other features that are a great addition to your yard in the summer are hardscape water elements. Hardscape contractors love to do different types of water designs. Some popular ones include:
Stone fountains

Clay pot fountain

Ceramic fountains

Koi ponds

Waterfalls
If you don't have a large space for a pergola or a large patio, creating a small fountain design in your backyard is a great way to create a more inviting space. Most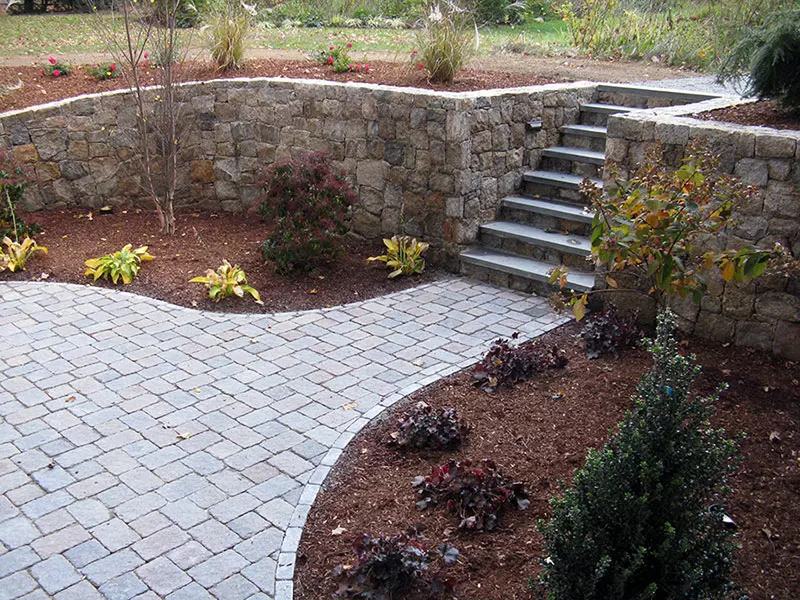 water features are built from stone, river rock, and larger boulders. Depending on how big you want your water element, you may be able to even add some fish!
Why Should You Hire Hardscape Contractors?
Hardscaping is a complex job. Not only is there designing involved, but you also have to strategize how to construct your design to last through different elements and seasons. If you have incredible patience, or a background in building, hardscaping will be right up your alley. 
However,  starting a new DIY project could take several weeks or even months to get the project done. If you aren't scared to do the heavy lifting, give it a try. If you don't think that you are cut out for your next project, hiring a reputable contractor is always a good idea.
The Cost Of Hiring Hardscape Contractors | Hardscapes Near Me
Hardscaping involves a lot of quotes. No one yard or project is going to be the same. One of the first things you will discuss with your hardscape contractor is what kind of hardscaping project you have in mind. From there, you will talk about the size of the project you want, as well as the materials you would like to use.  
Depending on the design options, size, and materials that will be a good base for your quote. From there, the contractor will have to include the cost of the crew and the time frame of the project. If the project is big, it's going to be more time-consuming because of more employees and supplies. In order to get an accurate price from a hardscape contractor, you will have to call and discuss your design thoughts to get a good idea of what your vision is.
Hardscape Contractors Near Me
A lot of landscaping companies offer hardscaping services as well. If you have a small project this would be a good person for you to hire to create your project. Once you have an idea of what your project is going to look like, check reviews and client images that the hardscape contractors feature to see if your design is something they would be able to do for you.